GAP - Guaranteed Auto Protection
If your vehicle is stolen or damaged beyond repair, your auto insurance alone may not pay everything you owe. Insurance typically pays the vehicle's actual cash value rather than the amount remaining on your loan or lease, which could leave a financial "gap" of thousands of dollars.
GAP coverage provides finance protection and peace of mind. With GAP, your lender will cancel up to $50,000** of the remaining balance of your loan or lease, after the payment from your insurance company.* Your deductible up to $1,000 may be included in this balance.
GAP coverage benefits:
Cancels up to $50,000** of loan or lease balance
Helps maintain your good credit
Covers negative equity
Insurance deductible up to $1,000 may be included if the amount you owe on the vehicle exceeds your settlement payment
One-time low cost makes it affordable
Convenient because it's sold in conjunction with the vehicle purchase
GAP is provided for the term of your loan
*The amount cancelled could be limited if the amount of the loan or lease exceeds a certain percentage of the actual value of the covered vehicle. The amounts cancelled vary, and there may be amounts for which you remain liable. Please consult your GAP agreement for full details of the terms and conditions of this coverage.
**The maximum amount cancelled may not apply in your state. Please consult your GAP agreement for full details of the terms and conditions of this coverage.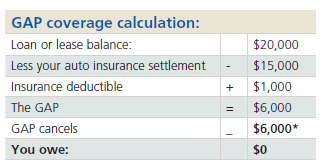 Protection for the road ahead
There's always a risk that your vehicle will experience a mechanical breakdown. And when it does happen, the expense of the breakdown may surprise you. Vehicle repair costs increase every year and can add up fast.
Enjoy the benefits
Financial protection
Zurich vehicle service contracts provide coverage for parts and labor costs to repair or replace major components parts.
Flexible options
The cost of your service contract can be purchased separately or easily attached to your monthly payment. This will help eliminate unexpected major repair costs.
Higher resale value
Your Zurich contract can be transferred to the next owner of your vehicle for a better resale price. You can actually recapture some of the cost of your service contract even after you've enjoyed its benefits.
Nationwide acceptance
Dealerships and repair facilities across the United States and Canada will honor Zurich vehicle service contracts. You can have your vehicle repaired in your hometown or while you're away from home.
If you've ever experienced an unexpected mechanical breakdown, you know the inconvenience and expense involved. Just one major repair can cost you considerable time and money. Zurich provides five program options. You select the level of protection that's best for you.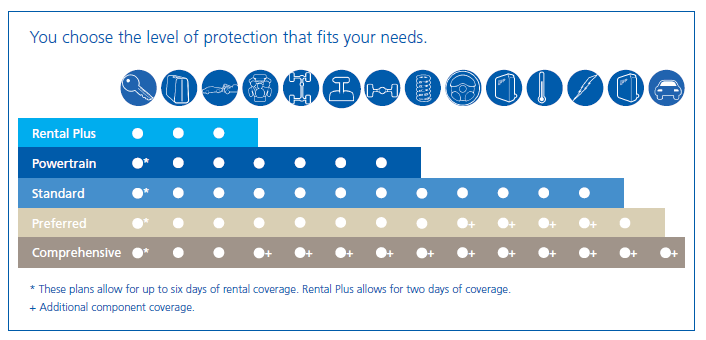 The parts shown below are only a partial listing of additional parts covered by our comprehensive plan
Engine
Oil pressure switch/sending unit, fuel tank and lines, freeze plugs, air pump pulley, radiator cap, thermostat, cooling fan shroud, charcoal canister, EGR valve, EGR control and engine-accessory mounting brackets.
Transmission
Pressure plate assembly, clutch release bearing, release bearing retainer, shift cable/detent cable, linkage, transmission computer, clutch master cylinder, clutch slave, cylinder, shifter assembly/shift knob, transmission cooler and cooler lines.
Drive Axle
Flex disc and propeller shaft.
Suspension
Lug bolt/lug nut, McPherson struts, McPherson strut pivot bearing, air suspension bag, and hub assembly.
Steering
Power steering speed sensor, steering damper and steering accessory mounting brackets.
Electrical
Fuel pump pulsator, electric fuel pump relay, windshield washer pump and motor, power seat cable/transmission/solenoid, engine cooling fan relay/thermo-sensor, transmission control spark switch, radio/audio, radio speakers, speed sensor, resistors, other relays, other modules, fuseablelink, neutral safety switch and turn signal flasher/hazard flasher.
Heating & air conditioning
Air conditioner lines, pressure switch, air conditioner relay, air conditioner thermostat, temperature controls, automatic temperature control sensor, water control valve, ducts and outlets and vent motor/duct motor.
Interior/Exterior
Trunk pull-down motor, door release handle, door lock linkages, door latch mechanism, door stay, door mirror, door mirror-manual remote control, interior rear view mirror assembly, window regulator, window sash/run channel, window crank handle, speedometer cable, speedometer, interior light assemblies, exterior light assemblies, chime/chime module/buzzer, lumbar bag air pump and wiper transmission/wiper arm.
Comprehensive
Our comprehensive plan also includes the benefits of rental reimbursement, trip interruption and emergency roadside assistance. Comprehensive is an all-risk mechanical breakdown plan. All parts of your vehicle are covered except those specifically excluded.
Exclusions
All parts are covered with these exceptions: glass, lenses, sealed beams, light bulbs, wheels, wheel covers, tires, interior trim, moldings, bright metal parts, sheet metal, flexible body parts, weather strips, upholstery, convertible and/or vinyl top, paint, rust, physical damage, catalytic converter, exhaust system, brake rotors and drums, wiper blades, hoses, shock absorbers, batteries, carburetor, and throttle body assembly (except the injectors). Spark/glow plugs, drive belts, brake pads, brake linings and shoes, and manual clutch disc. In addition, repairs of water and air leaks, rattles, squeaks and wind noise; alignment of body parts, bumpers and glass are not covered. Any parts or components that are not factory installed are not covered.
In addition, the normal maintenance services and parts required or recommended by your vehicle manufacturer and other normal maintenance services and parts, including engine tune up, suspension alignment, wheel balancing and filters.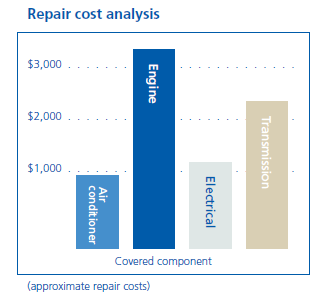 Rental Plus
Rental Plus provides greater peace of mind. You'll receive the benefits of rental reimbursement, trip interruption coverage and emergency roadside assistance that provide a safety net for the unexpected.
Rental reimbursement
There is no need to bother friends or family when your vehicle is in need of a manufacturer's warranty repair. Just rent a car and we will reimburse you for the use of the rental vehicle. The plan will pay up to $30 per day.
Trip interruption
Nothing ruins a trip faster than an unexpected breakdown. Our trip interruption coverage makes it a little more tolerable. The plan reimburses your food and lodging expenses up to $100 per day for up to three days if you break down more than 100 miles from home.
Emergency roadside assistance
Rental Plus also provides emergency roadside assistance. Services include towing, flat tire changes, gas and fluids delivery, jump-starts, and frozen lock and lockout services. No need to worry about having cash on hand. Zurich will authorize up to $100 per disablement in expenses. You just sign and drive.
Contact Us
We would love to hear from you! Please fill out this form and we will get in touch with you shortly.